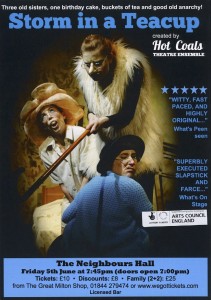 Join us on Friday 5th June for a live performance of Storm in a Teacup.
Inspired by Chekhov's Three Sisters, Storm in a Teacup, is devised and performed by members of Hot Coals and directed by Alice Robinson.
In an old, old house, there's an old, old staircase and up that old, old staircase, there's an old, old room, and in that old, old room are three old, OLD sisters.
This darkly comic and cartoon-like piece is a window into the quirky and tender world of three sisters as they fight the system to keep their independence.
In an old room where 'eighty-something' year old; Olga, Masha and Irina reside, words have lost their place and physical comedy, walking sticks and false teeth come to life. No previous experience of Chekhov required!
This production has no dialogue and shares its story through beautifully choreographed set pieces to music, physical comedy, clowning, physical theatre and larger than life characters. Storm in a Teacup is a fun and touching journey through afternoon tea rituals, birthday cakes and chamber pots. "Joyful. Physical. Beautiful."
Friday 5th June at 7.45pm (doors open 7.00pm)
Tickets £10. Discounts £8. Family (2+2) £25
Suitable for age 6+.
No nudity, no swearing – in fact no dialogue at all.
Get your tickets NOW either online at WeGotTickets or in person at the village PO & shop or via Ann Price on 01844 279474.